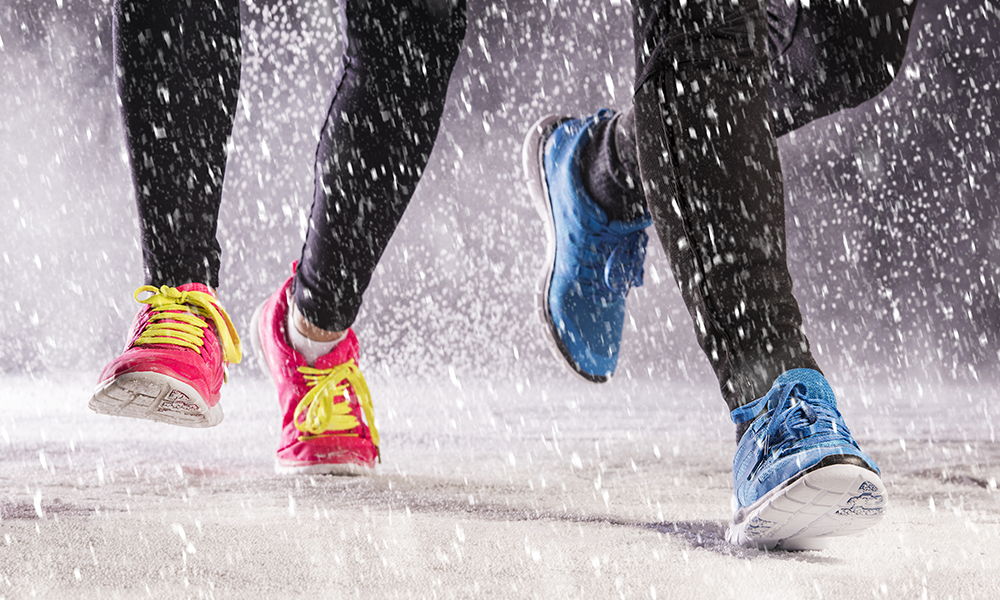 By Monica Harvey for RTBR
Sticking to those new years resolutions or training goals for a race can be difficult when the weather is less than desirable.
It's hard to enjoy that long run when it gets dark at 5:30 p.m. on a snowy Monday after work. So we are providing some tips to help you get through the coldest months of the year.
Before you head out
Drink some water. It may be cold outside but that doesn't mean you should stop hydrating.

Stretch and warm up your body indoors.

Check the weather conditions.

Plan your route accordingly
If it's been snowing then you'll want to run along plowed or salted roads and paths.

If it's super windy then you'll want to avoid running in large open spaces.

Avoid running on snow-covered trails. There's more risk for injury.

Plan your layers of clothing
Layers are key to running in the wintertime.

Long sleeve base shirt and a pair of running tights.

Socks – some runners prefer wool socks others layer with an ankle sock and knee-high socks over their tights.

Hat or headband (bonus - layer both for extra warmth).

Gloves (bonus - stick hand warmers inside your gloves).

Fleeced lined, moisture-wicking, waterproof and wind-resistant are all good words to keep in mind when selecting winter running clothes.

Run or workout indoors
Especially if the path is icy.

Run on the dreaded treadmill.

Visit an indoor track at a local gym or recreation center.

Give your muscles a break and try biking or swimming.

Other tips
Consider running with a light or headlamp when running in the early mornings or evenings.

Bright colors and reflective gear help others to see you better.

Use Vaseline to protect areas of exposed skin like your face. Use body glide for more sensitive areas under your clothing to help prevent chafing.

Indulge in a warm beverage and a meal after your run!

Be smart, be safe and always listen to your body.

Monica Harvey, a former Center Grove High School runner, participates in 5K, 10K and other races. A Rock the Block Run volunteer, she is a Community Relations Specialist with the Johnson County Public Library.