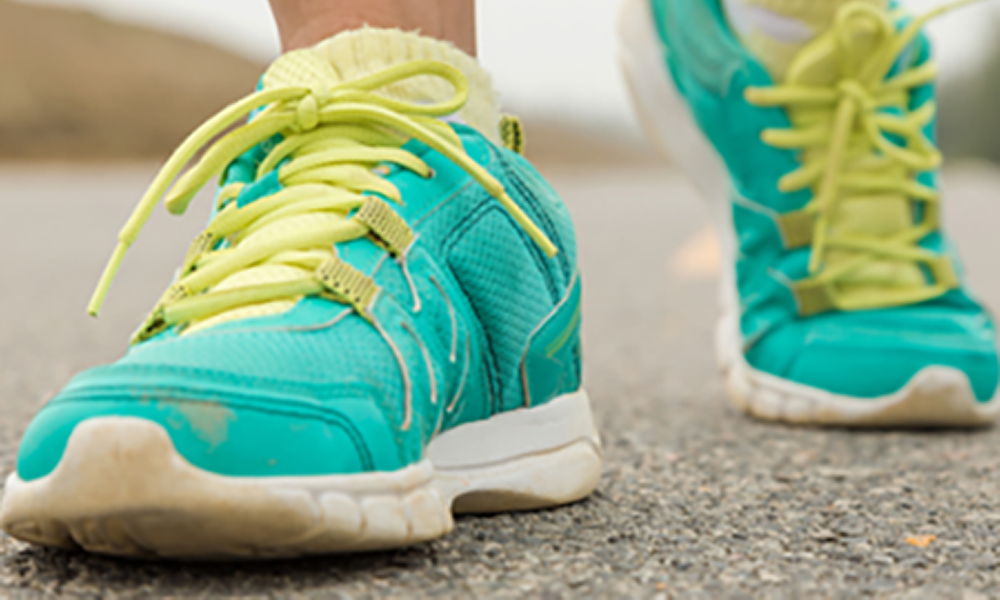 By Monica Harvey for RTBR
Have you been training in a pair of old sneakers? Are you ready to buy a new pair of running shoes but aren't sure where to start?
Here are some tips for finding the right shoes for you.
When you go to try on shoes, you will hear some buzzwords like pronation and stability. Here are some definitions from runnersworld.com that will help you understand what the sales representative is talking about:
Arch – The medial arch runs front to back on the inner half of the foot.
Pronation – The inward movement of the foot as it rolls to distribute the force of impact of the ground as your run.
Stability – The amount of support or stability the shoe provides while you're running.
Visit a shoe store like Blue Mile or Runners Forum. They will watch you run on a treadmill and recommend shoes based on what they see while you are running.
They can tell you more about your pronation and what kind of stability you will need in your shoes. They will bring out shoes that match your needs and help find the right fit for you.
Tips for buying shoes
Don't worry about fashion – Most running shoes already come in a variety of cool colors and fun styles anyway. You want to find a practical running shoe that is comfortable.
Do bring orthotics – If you use orthotics every day then you'll want to bring them with you.
Don't worry about the price – A good pair of running shoes is going to cost you some money. Sometimes shoe stores will have special sales or offer discounts.
Do shop at the end of the day – Try on shoes at the end of the day when your feet will be at their largest.
Buying new shoes is always an exciting time but remember to break them in before running a race. Breaking in shoes helps your body adjust to a new routine and helps to prevent blisters.
There are lots of different tips and advice about when to replace your shoes. Runnersworld.com suggests between 300 and 500 miles others advise every six months. You'll be able to feel a difference when your running shoes are worn out.
Monica Harvey, a former Center Grove High School runner, participates in 5K, 10K and other races. A Rock the Block Run volunteer, she is a Community Relations Specialist with the Johnson County Public Library.