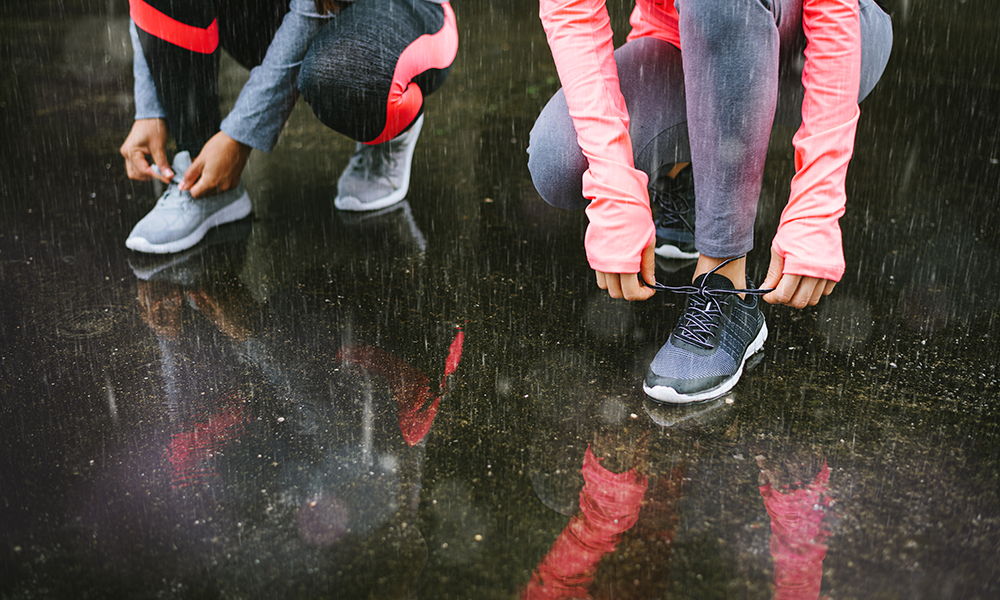 By Monica Harvey for RTBR
If you live in Indiana you know that our weather is unpredictable from day to day. It could be snowy and below freezing on Saturday then sunny and 65 on Wednesday. These tips will help you to prepare for a run or walk on the days when Mother Nature throws a curveball in the weather.
Cold, snow and ice
Wear layers - thermal underwear, a base layer, an insulating layer, a jacket, tights, socks, a hat and gloves.


Invest in a pair of running shoes that don't have a lot of mesh and performance water wicking socks. These will come in handy when it rains, too.


Warm up and stretch inside before you head out to get your blood pumping.


Plan your route accordingly. Run along roads and paths that have been plowed or salted. Watch out for black ice.


Consider running outside or doing a workout at the gym.
Heat
Wear lightweight, light-colored clothing to reflect the heat. Apply sunscreen before you go out to run.


Hydrate. Hydrate. Hydrate. Drink plenty of water throughout the day and carry a water bottle with you during your workout.


Listen to your body when running in extreme heat and know the warning signs of heat exhaustion.


Visit a local park and do some trail running in the shade.


Schedule your summer runs in the early morning or early evening hours. Avoid running in the middle of the day.
Rain
Wear tighter, water-wicking clothes and socks! Avoid cotton clothing. Reflective clothing will help drivers to see you. A brimmed hat will keep the rain out of your eyes.


Use body glide or Vaseline to prevent chaffing.


Create a rain poncho out of a trash bag or throw a cheap disposable one in the car.


Put your cellphone in a plastic baggie to keep it protected while you run.


When you get back from your run, change out of your wet clothes and dry out your shoes by stuffing them with newspaper to soak up the moisture.
Monica Harvey, a former Center Grove High School runner, participates in 5K, 10K and other races. A Rock the Block Run volunteer, she is a Community Relations Specialist with the Johnson County Public Library.