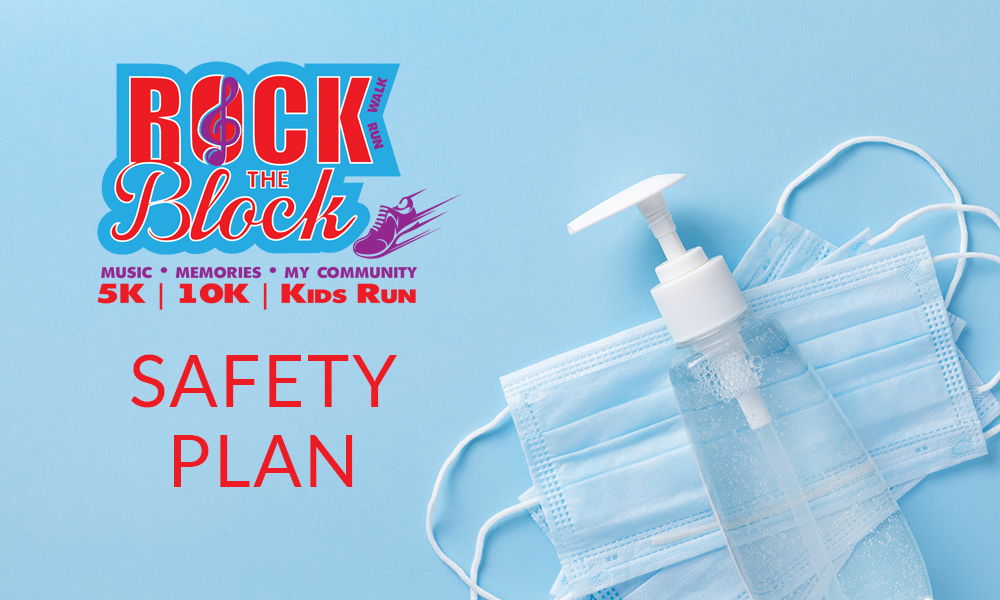 By Monica Boone for RTBR
We think it is important for everyone to be informed and prepared to rock it with us during Rock the Block. This week we are sharing part one of our safety guidelines with you. Rock the Block run/walk with social distancing will be held on Saturday, April 24 at Center Grove High School in Greenwood. The start time will be 8:35 a.m.
Our goal is to conduct a safe and well-directed run/walk event keeping social distancing enforced for the welfare of the athletes, volunteers, vendors and spectators. We are expecting a crowd on-site at this year's event. Participants also have the option to join us virtually and not be on site.
Know Before You Go
Tuxedo Brothers Event Management will manage this event. They have conducted approximately 10 events during 2020 with social distancing guidelines following all regulations set by the local health departments and will do so once again with this event.
Participants that take part in this event are not in the upper age groups of 65+ (most are in the 10-60 age group) and all in reasonably good shape to begin with as they have been training. Being an outdoor venue with fresh air and sunlight gives us a nice advantage as well.
Any participant that is not feeling well or feels they have been exposed to anyone with the virus will be asked not to attend the event. For the latest race details please watch your email and our website for a complete understanding of the new format.
Overview
There is never a point during the event that all participants are grouped together. We will take extra precautions to ensure this will be the case. All participants and volunteers will be outside for the duration of the event, which will conclude by 11 a.m.
Volunteers
All volunteers will be required to wear facemasks. Any volunteer working at a water stop will not hand water to participants, but instead, make all water stations 'self-serve' so that athletes can grab water on their own. Gloves are required to be worn during the preparation of the 'self-serve' stations.
Registration
Registration will be online prior to the day of the event. Registration and packet pickup on the day of the race will be outside. Athletes can pick up their materials (shirt, bib number) either on Friday, April 23 from 12:30 p.m. to 5 p.m. at Spotlight Strategies – 170 Commerce Drive, Franklin, IN 46131. Follow signs for PACKET PICKUP/REGISTRATION entrance. Race day packet pick up will be from 6:30 a.m. to 8:30 a.m. at CGHS behind Bleachers (HOME SIDE) 2911 S. Morgantown Road. Enter North East Stadium gate doors where you see PACKET PICKUP/REGISTRATION SIGN. Parking available in Student lots North and East of the football stadium.
Tables will be spaced out and lines will be set up for people to get their materials – cones will be placed at each registration line to show where each person is to stand – keeping all participants six feet from each other as they pick up materials. Clear plastic table shields will be set up to help separate volunteers from the participants as they pick up their packets.
All the registration areas will be wiped down with sanitation wipes prior to the start of registration and a few times during the process. Participants will be encouraged to wear face masks during the pre-race activities leading up to the actual start.
Runners and walkers are a well-behaved group that should comply with all of these rules – people are anxious to compete again knowing they will be subjected to new restrictions!
Please note that Tuxedo Brothers Event Management has been conducting 'newly restrictive' events since June 20 with the Cicero Triathlon. These newly formatted events have been going well with good participation of athletes using masks and following all guidelines before and after the competition.
Stay tuned for part two of our safety guidelines. If you have any questions, please contact Erin Smith, Chair for Rock the Block Run at info@rocktheblockrun.org or 317-697-1717.