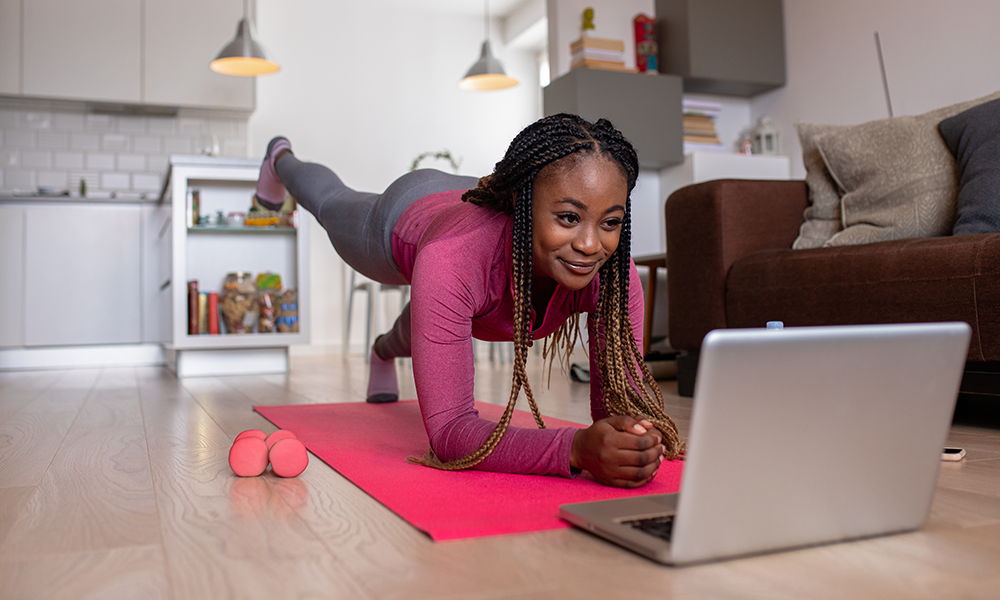 By Monica Boone for RTBR
Have you been going stir crazy as we all continue to navigate social distancing and safe practices at home? You're in luck for two reasons. First, spring is finally here! Everyone can get outdoors to soak up the sun during a daily walk or run. Second, we are sharing several virtual ways for you to share your workouts with family and friends.
DIY Options
If you love Excel spreadsheets, scrolling through Pinterest or watching YouTube videos then you'll appreciate these DIY ideas. Here are some free and easy ways to workout with others from the comfort of your own home.
Shared Google Document
Create a shared Google Sheet for the week or month. Include your names, dates, type of workout, length of time, comments, etc. Research and find a template that works best for your group.
Complete your workouts.
Log your details in the sheet.
Help keep everyone in your group accountable by commenting on their accomplishments within the sheet or plan a check-in call each week.
Have fun keeping track of your workouts.
Video Call with Zoom or FaceTime
Choose a workout (run, walk, strength etc.) to complete together.
Decide on a time that works best for you.
Prepare your space for a workout.
Call your friends up and complete the workout together.
Cheer, encourage and talk to one another throughout the workout while on the call.
Share with your accomplishments on social media and invite others to join you next time.
YouTube videos
Search for a workout that interests you and your friends or family.
Download app sharing software for a virtual experience or find a space to spread out in the back yard, a soccer field or an open gym.
Use your phone, laptop or television to share the video.
Cheer and encourage everyone throughout the workout.
Celebrate your accomplishments with a meal or ice cream when your done.
Free Apps
With these options you can choose the free version or pay a little extra to access more features. The free versions work well for tracking your activity and sharing with others.
Run, ride or swim.
Compatible with most popular devices
Record your activity in the feed, follow your friends and their workouts, comment on each other's achievements.
Share photos of your workouts and adventures.
Join thousands of clubs.
Share your location with loved ones while running or cycling for safety.
Run, walk, ride, gym workouts (offers different types of activity for each).
Compatible with most popular devices.
Log your workout and share with everyone on social media.
Create challenges for you and your friends.
Discover new routes in different states and countries.
Syncs with Under Armour Smart Shoes.
Run.
Compatible with most popular devices.
Get personalized coaching.
Track your pace location, distance, elevation, heart rate and mile splits.
Invite and compete with friends, share your progress on the distance leaderboard.
Share your photos, stats and stickers with everyone on social media.
On-Demand Options
Take your at-home workouts to the next level with these two on-demand options. Both have a variety of workouts to choose from if you don't mind spending some money to access them.
Run, walk, ride, strength, yoga and more.
Compatible with most popular devices.
Connect and compete with your community on the Leaderboard.
Visit their site for pricing options.
Run, strength, yoga, dance and more.
Compatible with most popular devices.
Share your progress with your Coach and workout buddies.
Visit their site for pricing options.
Comes with access to nutrition plans.